Stanislaw (Stan) Chrzanowski
When Stanislaw (Stan) Chrzanowski became a member of Eastern Bay Villages in mid 2017 he said he wanted to record his story of escaping from Poland in the war. Another member, Ed Reid, is keen to listen to stories of the war and had recording equipment. Over a few weeks they recorded four hours of conversations.
Much to Stan's delight, when Ed visited he brought his dog, Sam. Dogs had been very important in Stan's life but he no longer had a dog as he could not walk one. In the spirit of reciprocity, members are encouraged to support one another, so Ruth Gerzon started to talk to Stan about how he might support another dog owner who is working by providing 'doggy day care'.
Sadly just when he was coming round to the idea he died at the end of 2017, before this option could be pursued. But at least we were able to provide the family with the hours of audiotape and some lovely photos of their Dad.
Thank you, Stan. You will go down in the history of our organisation as the first Foundation member we supported.
Terry is a musician and entertainer. He made a special bicycle trailer for his instruments so he could play his ukulele in rest homes. No longer able to ride a bicycle, he needed a mobility scooter to continue to get out and about and delight seniors in our community.
He was referred to us by another member who saw that the paperwork needed was getting him down. Helen Payne, a member with a long history of advocacy and funding applications offered her support. She brought her laptop over to help Terry fill in the forms and approach people who could provide the right kind of supporting letters.
Terry said: "I'm so grateful. I couldn't get my head around it. Helen made it so much easier. I'll be able to be more independent and still be involved in the community." Fingers crossed, Terry will soon be mobile again and people in rest homes will benefit from his musical skills.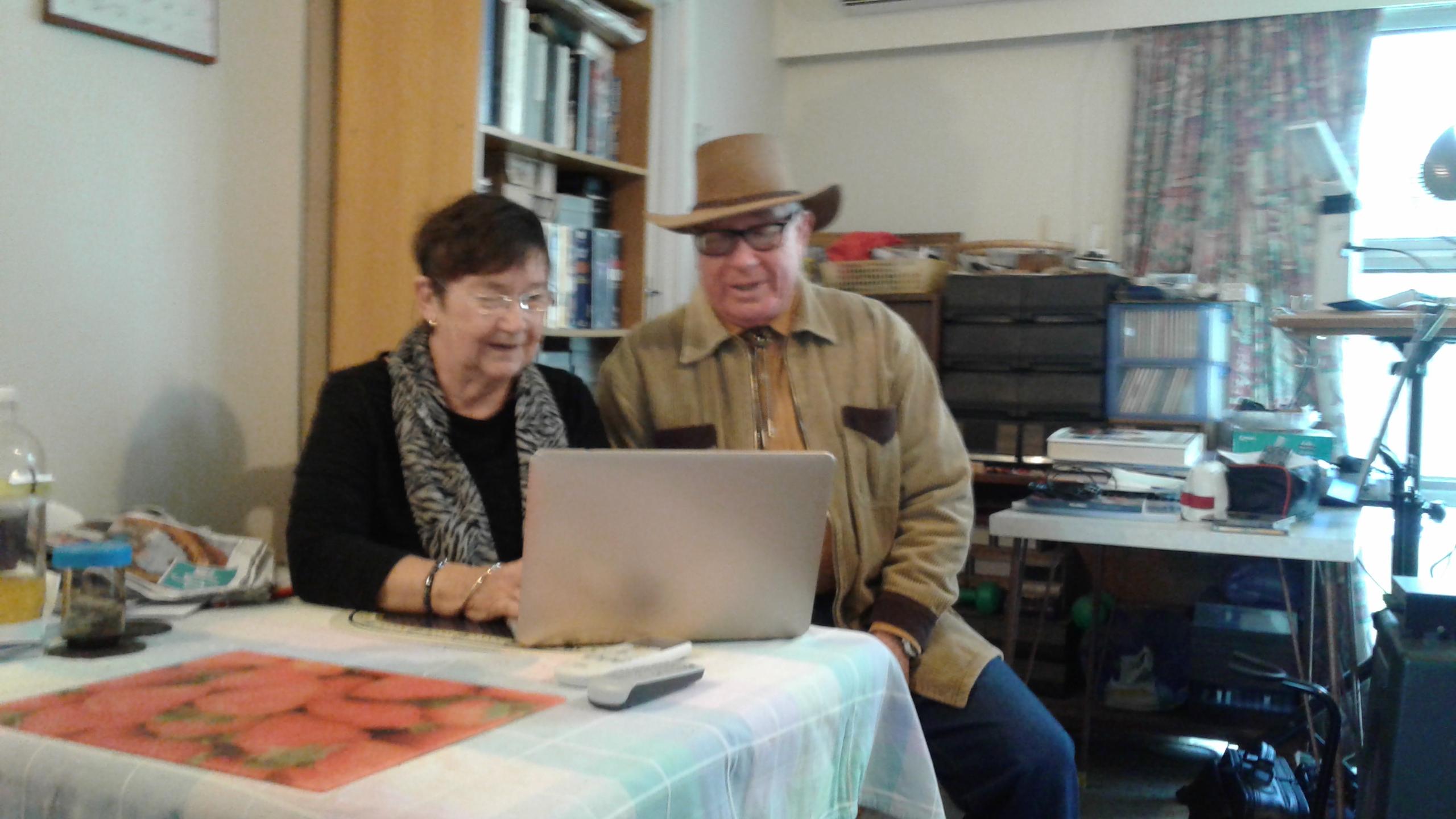 While we are getting underway and looking to create new stories we also add here a fictitious story about how we a member might be supported.
Jane is 83. Her husband died last year and she cannot drive any more. She is increasingly isolated and can no longer easily get to the library or her bridge club. She lives in a three bedroom home with a large garden, two beloved dogs and a cat. Her son, daughter and grandchildren all live in Perth. They would like her to move into a retirement village but she is adamant she is not leaving her home and her pets.
Recently a travelling salesman persuaded her to take out a Sky subscription, yet she rarely watches TV and cannot afford it. Her family heard about this and they referred her to Eastern Bay Villages.
The coordinator, Marama, visits, along with a member, Rosemary. They find out what is important to Jane and get her permission to be involved in her life. Rosemary comes back another three times over the following fortnight. She finds out much more about Jane, her history, interests, abilities and what gives her joy as well as what might be needed to keep her safe. Meanwhile Marama talks to the family in Perth about their concerns.
Marama and Rosemary then support Jane to make a plan based on the information she has shared. The plan includes: Rosemary and the local Neighbourhood Support coordinator working with Jane to set up neighbourhood support in her street, holding a barbecue for neighbours. They also help her develop an emergency kit and find neighbours who will alert her if an emergency occurs.
Jane becomes involved with the community garden where she gives advice on growing vegetables and looks after the sales table. She gets a lift from another gardener.
Rosemary and Jane go to the library and they agree to use one of their volunteers to ensure Jane has access to the library again.
Jane is referred to Budget Advice who manage to persuade Sky to cancel the contract. Jane agrees not to sign any more documents nor make large purchases without consulting Marama.
The maintenance of Jane's home is a problem. We a list of reliable tradespeople, and some are willing to offer discounts to seniors. The family in Perth offer some money towards repairs.
Rosemary agrees to visit weekly. Once a month she, Jane and Moana meet and write a joint email to the family in Perth to update them on any news.
Note: within communities other relationships often develop from initial connections, e.g.  At the neighbourhood support meeting Rosemary learns that a neighbour has internet and a tablet. She asks if Jane could, once a fortnight, go there to Skype the grandchildren in Perth. The neighbour, who lives a long way from her parents, welcomes this. Jane begins to bake for the neighbour and read books to her children after school.
Some children from another family in the road offer to walk the dogs for Jane in exchange for some baking.
Address
PO Box 3017
Ōhope
Whakatane 3161